Do you know the saying, "It's not you, it's me?"
Well, I think that applies to the recent rockiness (if you can even call it that -- it's not THAT bad) of my agility with Marge.
I got to thinking the other day about how well Marge did when we ran Rally on Sunday with our friend and her Westie. Marge was totally attentive, and every time we ran it, it would have been a Q if it was really a trial. Monday, on the other hand, when I opted to run agility during my ring time at the club, Marge wasn't terrible, but she certainly wasn't as good. And, of course, as I already wrote about, Saturday could have gone a lot better than it did.
The reason for this? I'm stressing out too much about this stupid trial and forgetting to have fun.
Marge has spoiled me in the sense that training her to perform basic behaviors has been a piece of cake. Really. Things that totally haunt other dogs and their owners like stays, basic recalls, and attention have come really, really easy to me. So, when I encounter a difficulty in training, I sometimes forget that there is, indeed, a training period. Marge isn't necessarily going to just "get" tunnel/contact discriminations or 2o2o contact behaviors. Sometimes, I forget that it's okay to break it down. It's okay if she doesn't get it the first time around, because there's nothing out there that says a dog has to learn a given behavior at a certain rate.
Louie also pointed out that Marge actually does BETTER when she's being observed by others. Surely, I don't think this is her trying to show off. Rather, it is ME who is different when others are around - lots of praise, encouragement, and treats. Since she has had her issues with some people and some dogs, it would be silly to not reward her for doing well around them. And, what do you know -- she blossoms! When I'm training alone, I think I'm sometimes harder on myself and on Marge. There are no distractions to worry about, so everything else is supposed to just come easily. That is not the case.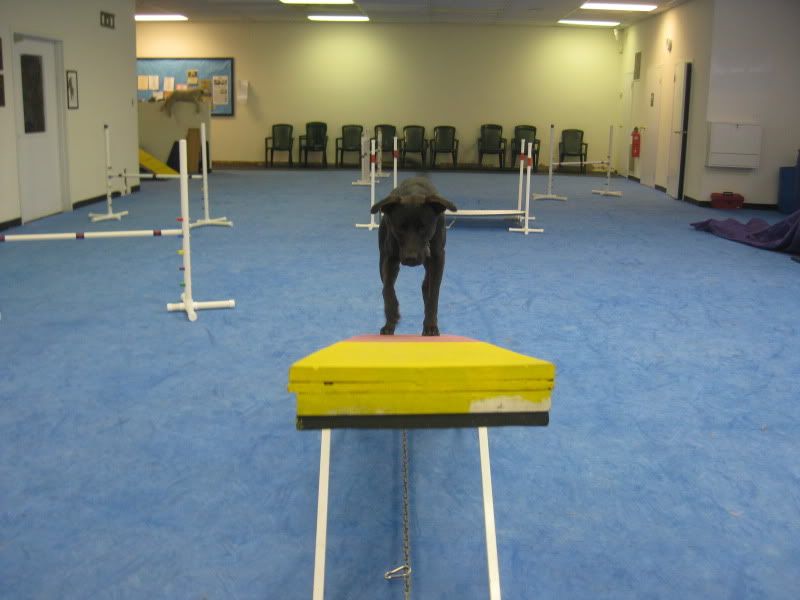 So, it's a problem with me. It's a problem of my own stress, my own human desires to want to go out there and kick butt, and my own (sometimes extreme or unnecessary) worries that things will go badly.
I'm giving both of us a breather from agility this week or else one of us is going to burn out. I don't know why I get this way -- sometimes I think I just want Marge and I to succeed so badly that I lose sight of the fact that this is just ONE trial, there will be OTHERS if this one doesn't go well, and, overall, the idea is to have FUN. At least I was able to recognize this flaw in myself before things got ugly.
I'm going to have a private lesson with Marisa on Monday, and, in a few weeks, I think I'm going to play hooky from school (just to justify this - it's just one class - and I ALWAYS have awesome attendance) to drop in to agility class. I think I'm going to avoid doing agility alone for a while. After all, we still ARE a novice team, no matter how far we've progressed in our first year of agility.. and I think we both still need guidance.
---------------------------------
I did promise video. Well, here it is - I did genuinely try to break things down - I set up a novice-type course and mostly worked on things individually. The only thing I need to improve upon for next time is being motivational for Marge and rewarding her more heavily and more often.
One thing I need to watch out for is the teeter. Although her teeter was fantastic on Saturday, she was really slow over it on Monday, and, at some points, basically hovered at the pivot point as the board moved back and forth (ie., not enough of her weight was shifted forward to completely tip the board down). I've had a lot of success motivating Marge when it comes to the teeter, so hopefully next time, she'll be back to normal with it.