We've been invited by our good friend Brutus to participate in the celebration of his 100th post on the blog by sharing something ridiculous.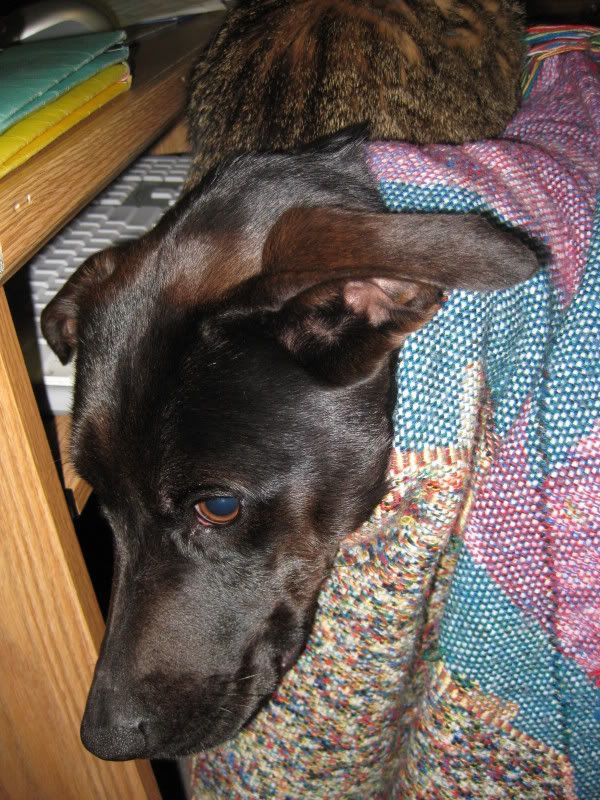 I don't know how clear you can see everything in this picture, but it goes like this: I am sitting in a small desk chair, there is a 40-pound Labrador mix in my lap, and, on top of that 40-pound Labrador mix, there is a 10-pound cat. It's just a totem pole of ridiculousless - me for letting Marge sit with me in that particular chair (it's not comfortable!), Marge for allowing Layla to get comfy on her back, and, in some ways, Layla for not freaking out that her prime real estate was being settled on by a big stinky dog. The result of this is usually painful pins and needles in my legs, but, hey, she enjoyed climbing up to cuddle, so it is definitely worth it!

------------------
Additionally, miss Anna the GSD is also running a contest on her blog, involving tongues. I found just the right picture to send to her. (Marge is actually getting a taste of ice cream - I caved in and bought her some after a long agility practice. She only got a few licks, but she really did enjoy it.)



------------------
Lastly, we don't do contests or awards here, but I did want to simply acknowledge the fact that MargeBlog has reached 30 followers. Coming on here and seeing your comments really does brighten my day, and I just wanted to say thank you for that. I am happy to have met so many friends on here who have shared their stories, encouragement and wisdom with me as I go on this journey with my girl.

I am always looking to make new blog friends, so if anyone has any "suggested reading" for me, please feel free to leave links in the comment box or to shoot me an e-mail.