Well, the worst of it is over, but we still have yet to see the sun here. What a storm it wound up being! There are still traffic lights out all over the borough, downed trees still blocking roads, and areas that are still flooded and unusable.

Here is the tree that fell on to my grandmother's house on Saturday (photos taken by my sis). Imagine looking out your front window and seeing this! It has since been cleared, but there is some damage to the house that needs to be repaired.
It's still raining on and off, and the wind is still kicking up. Tree services are going around, cutting down the debris with chainsaws, and fire trucks are still blaring constantly. Though we did get out for three walks yesterday, we're taking it easy today. It just seems chaotic out there.
We played a few rounds of "Find-it" with Marge's old squeaky raccoon (that no longer squeaks, of course). It entertained her for a while. She put her thinking-cap on and sniffed all over the room when I gave her the release to find it. At the end of our game, she posed with her prize.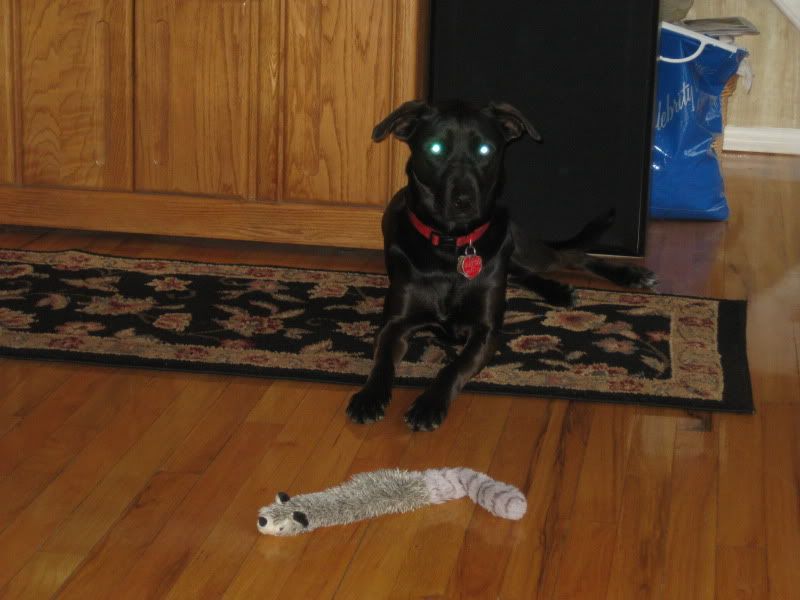 We were supposed to have a private lesson with Marisa today, but, due to damage in the training building from the storm, it was cancelled. Another week of no agility and another bummer. Oh well - we have no choice but to make the best of it!