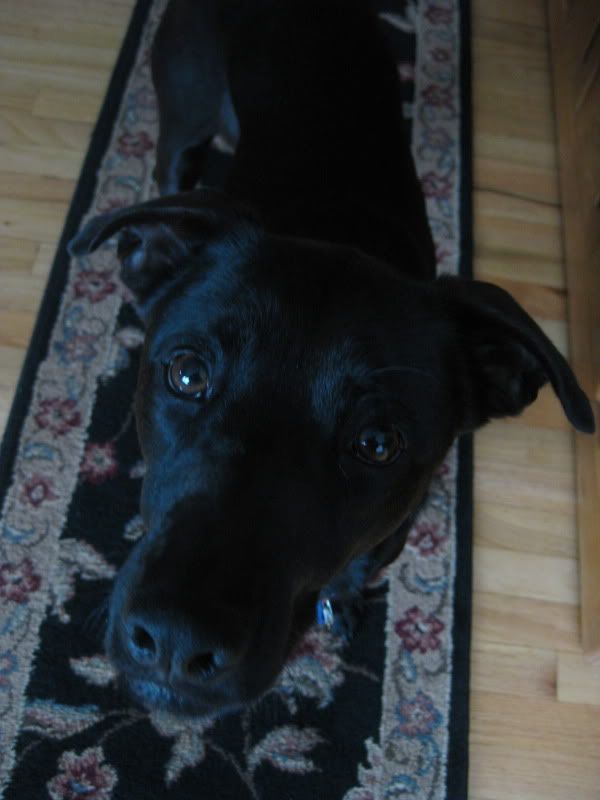 It's really hard to believe, but our first AKC trial looms exactly two weeks from this Friday. I feel like I sent in my entry years ago; it almost felt like the day would never actually come. Even now, April seems so far away, when, in reality, it's right around the corner.

As I mentioned yesterday, yet another private lesson was cancelled. That's two weeks in a row without any "real" agility. I shouldn't worry too much, since we got rained out a few times before our NADAC trial last November, and it didn't present any problems at the trial. Maybe, just maybe, she'll be so excited to do agility at the trial that she'll pay perfect attention, and we'll Q as long as I don't screw up. Ya never know.
In the mean time, I am trying to get Marge physically ready for this trial and the trial season.
I'm trying to amp up the number of walks. I'm shooting for at least three walks a day, an hour of walking total. I wish I could take her on one long walk, but, unfortunately, the longer Marge is out, the less enthusiastic she is about walking and the more she worries about the world around her. So, usually our walks are 20-30 minutes long. It's also important to mention that Marge is on her long leash for a fair number of these walks, so she gets more exercise than if she was simply walking next to me. If I can get out for a couple of long hikes between now and the trial, I'll be happy.
I'm beginning to stretch Marge before practice and make sure she runs around a little bit to loosen up. I think I'm going to ask my trainer if there's anything in particular that I should be doing. I do simple stuff, since she isn't exactly 100% comfortable with being manipulated - having her hold a play bow, luring her to stretch her neck from side to side, helping her stretch out her back by holding her back legs (she LOVES this), turning her in circles. Maybe I'll post a video some time of the things that I do. If you have any suggestions, let me know.
The one thing that scares me about agility is the possibility of injury. Living with a fearful and HURT dog is something I don't want to have to experience. So, I hope that taking these measures will reduce the chance of that happening.
One other thing I need to get working on is getting Marge a new collar. I'm totally thrilled with the fact that AKC allows collars in the ring, so I want to get Marge a buckle collar with her name and my phone number on it to be her official trial collar.
This site
says they ship the order out within a couple of days, so if I order tonight, maybe I'll get it on time.
We've worked on the wicket a few times - Marisa insists that I will be able to feed Marge while she is being measured, and, since both of the judges at this trial are women, I'm really hoping that this won't be a huge issue. I am off from school the week before the trial, so, if possible, I'll schedule some time to go down to the hall to work on this.
The only thing left is the actual agility. Hopefully, the training building will be repaired enough by this weekend to allow for another lesson with Marisa. I want to run a standard course, since it feels like a really long time since we've worked on anything that wasn't like a drill. I also hope to drop in to class two weeks in a row, so that should get Marge back into the swing of waiting for her turn to run, being around other dogs, and all that lovely stuff. In a couple of weeks (after the trial, unfortunately), we'll be back outside at the agility field. I am so excited for that.
My plan is not to focus so much on any one event alone, but to see how things go as the season progresses. It remains to be seen how much I keep to that plan, but, trying is the first step, I think.